Bondtech Brass Nozzle M6×0.75×5×13 1.75
This nozzle is manufactured by Bondtech in-house,
and will fit the following 3D printers:
Creality CR-10 Max
Creality CR-10S Pro
Creality CR-10S Pro V2
---
Features
1 unit per pack
Available in sizes from 0.25 to 0.8mm
Advantages
Affordable price
Machined with ultra-precision
Recommended Materials
Use this nozzle with the following materials:
PLA
ABS
HIPS
PC
TPU
TPE
Nylon
PETG
ASA
PP
PVA
For technical and abrasive materials we recommend to use other nozzles in our range.
Different nozzle sets for different materials
We recommend you to have several sets of nozzles because:
Using different materials with the same nozzles causes deposit build-up inside the nozzle.
These deposits will cause blockages.
We recommend changing nozzles when changing materials.
Explaining the Bondtech Nozzles reference standard : MA1×A2×B×C D E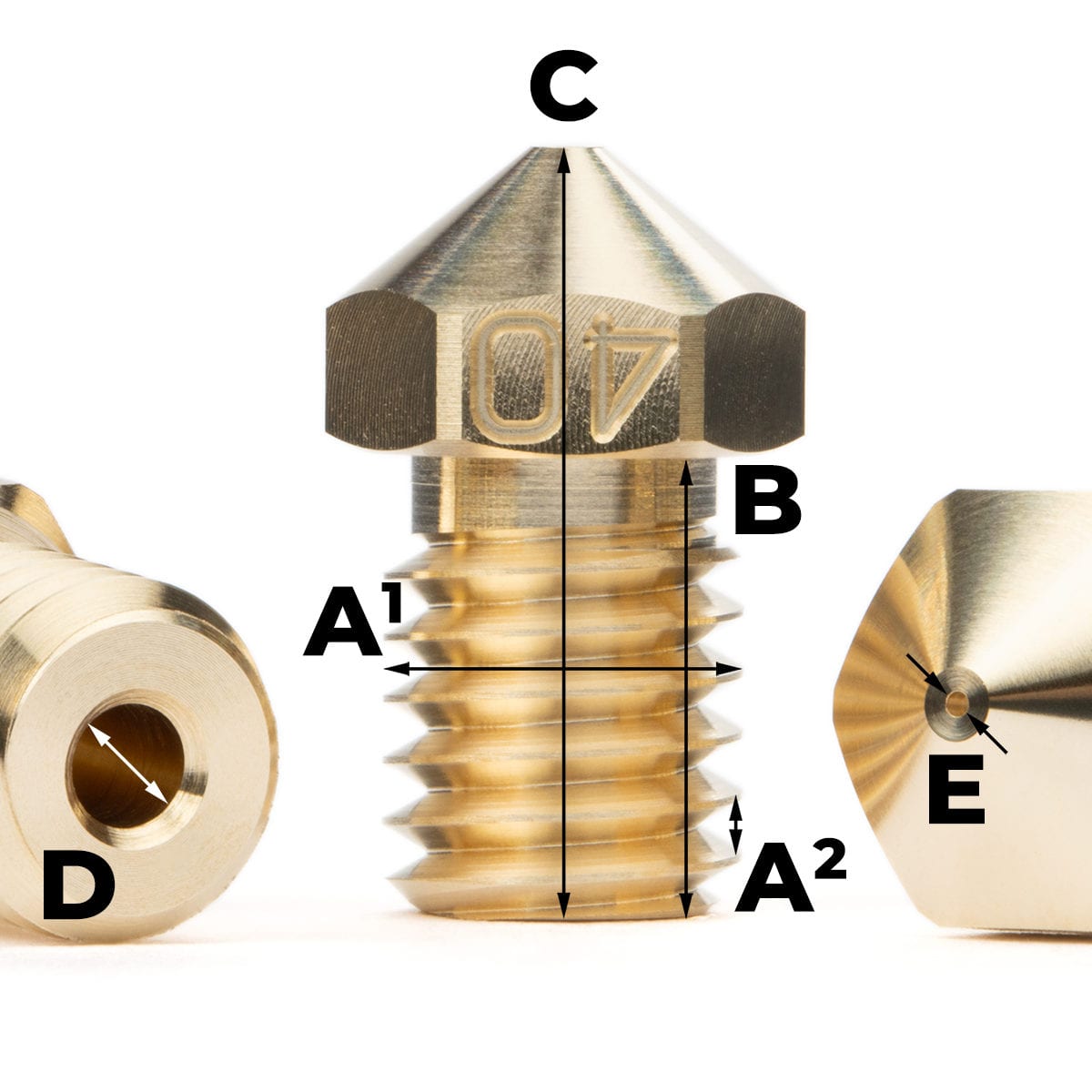 MA1xA2 refers to the nozzle threading :
MA1 thread with A2 mm pitch.

B >> refers to the nozzle neck length :
B mm long.

C refers to the nozzle overall length :
C mm long.

D refers to the filament diameter:
1.75 or 2.85 mm

E refers to the nozzle diameter:
15,25, 40, 60, 80 ... mm/100
| | |
| --- | --- |
| Freight Weight | 5 g |
| Dimensions | 5 × 6 × 1 cm |
| Nozzle size | 0.25, 0.40, 0.60, 0.80 |
Compatibility Table
M6×1×7.5×12.5 1.75
M6×1×5×13 1.75
M6×0.75×5×13 1.75
M6×1×5.5×14 1.75

List of Hotends

Mosquito
Mosquito Magnum
Copperhead
E3D V4, V5 and V6 blocks
E3D Chimera
E3D Kraken
RepRap M6

List of 3D Printers

BCN3D family
Formbot Raptor
Prusa i3MK2/2S
Prusa MK3/3S
Prusa Mini
Wanhao i3 Mini
bq Hephestos
bq Hephestos 2
bq Prusa i3 Hephestos
bq Witbox
bq Witbox 2
Creality CR-10
Creality CR-10-S4
Creality CR-10-S5
Creality CR-10S
MakerBot Replicator
MakerBot Replicator 2
MakerBot Replicator 2X
Creality Ender 2
Creality Ender 3 Pro
Creality CR-20 Pro
Creality Ender 5
Craftbot family
Creality CR-10 V2
Tevo Tornado
Creality CR-10 Max
Creality CR-10S Pro
Creality CR-10S Pro V2
Raise 3D Pro2
Raise 3D Pro2 Plus
Only logged in customers who have purchased this product may leave a review.
Related products