---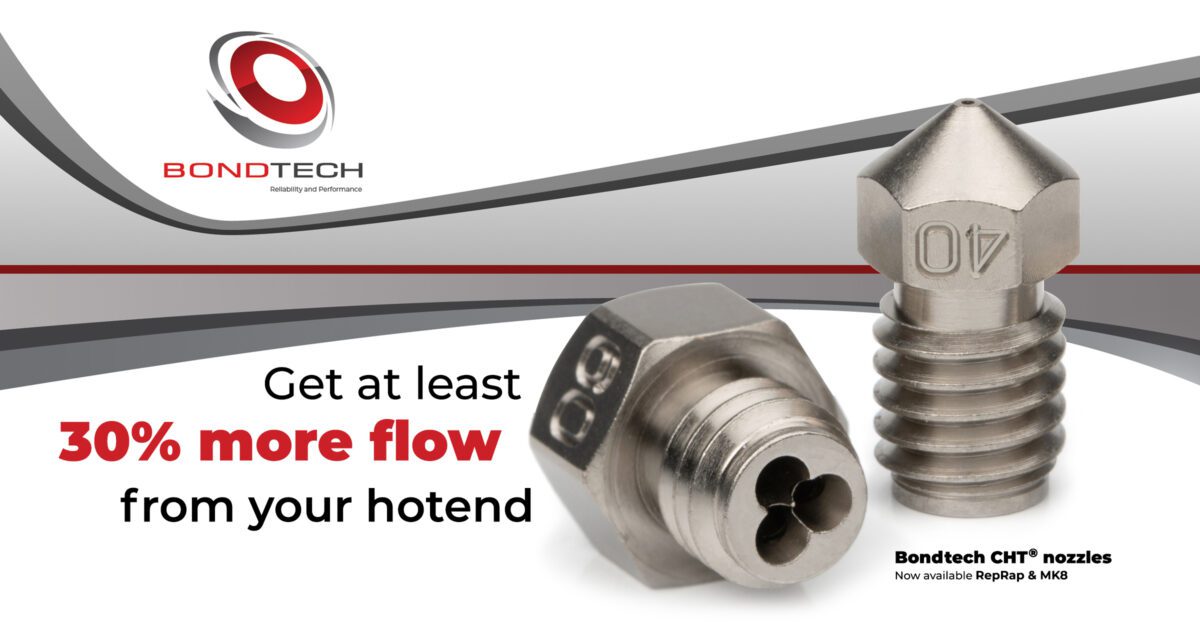 Check the White Paper:
"Increasing Melt Capacity With 3 Nozzle Features"
Gains apply to rigid materials and 2.85mm flexible filaments only.
Click here to know more about the Bondtech CHT® nozzles.
Click here to know where to buy Bondtech CHT® nozzles in your region.
Main Bondtech CHT® Advantages
Higher melt capacity by increasing the surface area of the heating walls
Affordable price
Machined with ultra-precision
Brass nozzle with Nickel coated surface
Follows nozzle standards:

RepRap (M6×1×7.5×12.5)
MK8 (M6×1×5×13)

May be used with 1.75 or 2.85mm hotends.
Advantages of the Bondtech CHT® technology:
Bondtech CHT® nozzles split the filament into 3 thinner strands allowing to melt the material from within. In doing so, the material melts faster and higher flow rates can be used.
Core Heating is a patented technology
Registration number: EP3445568A1
Nozzles for 3D printers made of metal with at least one or a multitude of holes to increase the surface area of the heating walls.
Advantages of the Nickel Coating
A Nickel coating is applied to our Coated Brass nozzles to provide protection against corrosion, erosion, and abrasion. Nickel coated nozzles have more corrosion resistance and lower coefficient of friction, which allows slicker feeding of material and delays plastic adhesion to the nozzle's surface.
---
Recommended Materials
Use this nozzle with the following materials:
PLA
ABS
HIPS
PC
TPU
TPE
Nylon
PETG
ASA
PP
PVA
For technical and abrasive materials we recommend to use other nozzles in our range.
Different nozzle sets for different materials
We recommend you to have several sets of nozzles because:
Using different materials with the same nozzles causes deposit build-up inside the nozzle.
These deposits will cause blockages.
We recommend changing nozzles when changing materials.