The Ninjaflex > Prusa Challenge
Printing with flexible materials is not always a straight path. Variables and settings will change depending on complexity of the part, speed, material, etc. Be aware that changes in a single parameter can affect multiple features. Here we'll show you some guidelines on how to 3D print with Ninjaflex (85A).
Before starting make sure your Prusa is calibrated, your print bed is prepared, and your filament is in good condition. This guide will not go into every detail regarding 3D printing but it will focus on some of the key points that will improve your experience with TPU, in this case with Ninjaflex as a challenging example.
1. Mechanical Preparation
Calibrate Your Printer And Bondtech Extruder
Are you sure your printer is properly calibrated? If you are not sure run the Calibration > Wizard from top to bottom and use Prusa's troubleshooting and guides to help you through.
The Wizard includes Self -test, XYZ calibration and Layer Calibration.
Because Ninjaflex is soft it will deform when pressured by the drive gears. Therefore you must release the tension on the Bondtech extruder's thumbscrew. Turn the thumbscrew counter clockwise about four full turns.
Prepare Your Print Bed
Do not print directly onto your PEI Sheet.
This could ruin the build plate since the adhesion between the Ninjaflex and the sheet is too strong and could result on removing the PEI coating of the plate while extracting the part.
You can use glue stick or blue painters' tape to protect your bed sheet.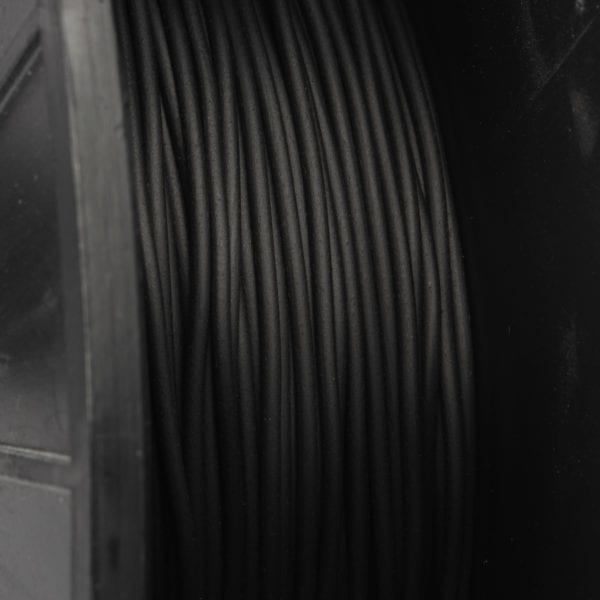 Check Filament Condition
Is your filament wet? You can see it bubbling out of the extruder if it's awfully wet. On a lower moist level, you can also check if you can hear it hissing, cracking or popping because of water quick evaporation inside the hot zone. Extrude a bit of material to check it.
Always keep your materials dry by storing them properly.
Is your filament 's surface damaged? Poor care or fast changes in temperature and air humidity can cause surface defects. Do a visual check of the material in the spool before 3D printing parts.
2. Profile Setup
How Parameters Affect The Part
You are now prepared with a calibrated Prusa i3 MK3S 3D printer, a suitable print bed and a proper Ninjaflex material. Next stage is to setup your optimal profile. This next section will show you how printing parameters affect the parts and what we recommend you should use or how to tweak it.
When fine tweaking your Ninjaflex profile, always evaluate changes and results in the test parts, by changing only one parameter at a time.
Pretty BMG by Chris Warkocki
We used Chris Warkocki's amazing Pretty BMG profile as a starting point. Credit is due. Credit is delivered.
Click The Download Icon To Get Our Profile
Download the ZIP file; extract to your disk the .ini file within; use PrusaSlicer's menu File > Import> Import Config, to select that same .ini file you saved; and install the profile we are using. Be aware that you should use it as a starting point and that there is no absolute guarantee it will yield you the same results we got.
Tweak it and save it. Just tweak it and save it.
3. 3D Print Some Flexible Parts