A pioneer in 3D printing
Bondtech develops, designs and manufactures unique dual drive extruders that eliminate the risk of grinding, slipping, filament deformation and under extrusion. Using two counter-rotating drive gears, the Bondtech extruders grip and push the filament from both sides for a secure and stable filament feed. The result is a reliable, more precise and faster printing process.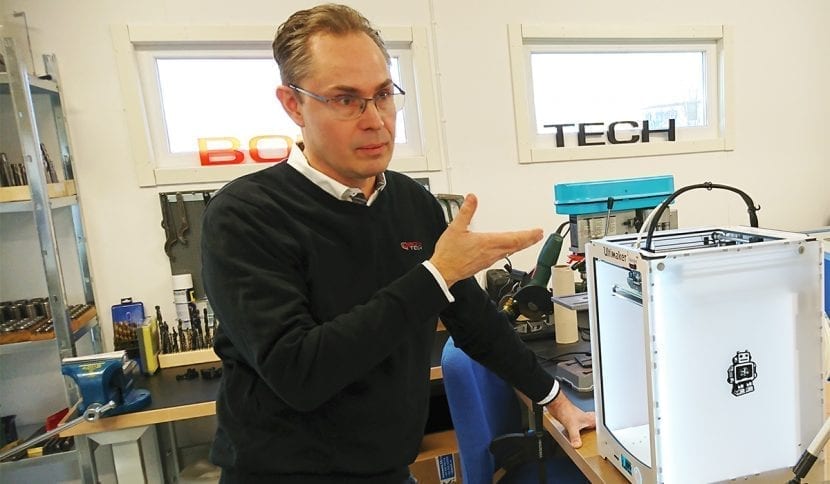 Martin Bondéus is the founder of Bondtech. As a child Martin had a big interest in technology. Besides carpentry he also liked to tinker with cars, mopeds and build radio controlled airplanes.
During Martin's career he have worked in different positions like production technician for a company producing sheet metal parts by laser cutting and stamping, after this he joined a mold maker company where he designed injeciton molds for plastic and zink and did the camprograms for electrodemilling.
Later on he switched to an injection molder where he took the position as the development manager with responsibility for product development, mold design and buyer of injection molds. Martin then joined as a production and technical manager at company that develop, produce and sell robots for the injection molding industry.
Before starting full time at Bondtech Martin was the development manager for a larger swedish producer of office furniture.
If you want to get in touch with Martin send us a message after clicking here.
A Swedish invention
The company was established in 2014 by Martin Bondéus, who had previously used the 3D printing technology in his work as a product developer. When certain patents regarding the FDM technology expired at the beginning of the 2010s, Martin set out to build a 3D printer based on a pre-designed kit. The result, however, wasn't satisfying. The performance and quality just weren't there.
Stubbornly, Martin therefore started building his very own printer from the ground up, not using kit products. This time the result was much better, but unfortunately still not good enough. Grinding, slipping and under extrusion translated into several failed prints.
Scouting the internet for advice, he realized that the problem with bad, unreliable extrusion was universal. Everyone seemed to suffer from the same dilemma. An idea was born.
Today, Bondtech manufactures Bondtech Dual Drive extruders and other innovative 3D printing products to users and retailers across the world. Constantly improving our offer, we believe this is just the beginning.
Bondtech's
Dual-Drive Technology
Bondtech Delivers high-performance feeders that make possible to increase the print speed, to save time, and to reduce costs of your 3D prints.
A symmetrical force from two drive wheels ensures a good grip on both sides of the filament, minimizing the risk of under extrusion, material deformation and other troublesome faults. In addition, the feeder offers a superior push force and precision, which results in a reliable feed without slipping or grinding the material.
A solution that simply works. Bondtech's Dual-Drive technology delivers the most accurate FDM feed in the industry, offering more control, sharper detail and unmatched performance in every aspect.
From Värnamo, Sweden To The World